Testimonials
Customer Testimonial on Cobra & Sidewinder
I first saw the cobra and sidewinder arms in 2002 on the set of the Steve Soderbergh film Solaris. The spaceship set had several in use as part of set dressing. I was sold on first sight. Not only are they beautifully made and very rugged, they lock into position with such ease and in so many positions. Sound carts need to fit through doorways, but over the years more monitors are in use. More things to hang off the side of carts for each different feature film. I wanted a tabletop for notes and arms to hold my video assist monitor and computer screens. These have been great and endured all the travels over some rough locations without fail.
A great investment that have always found place on all the evolving versions of sound carts I have made. Support over the years have also been unblinking in solutions.
~ Paul Ledford
CAS production sound mixer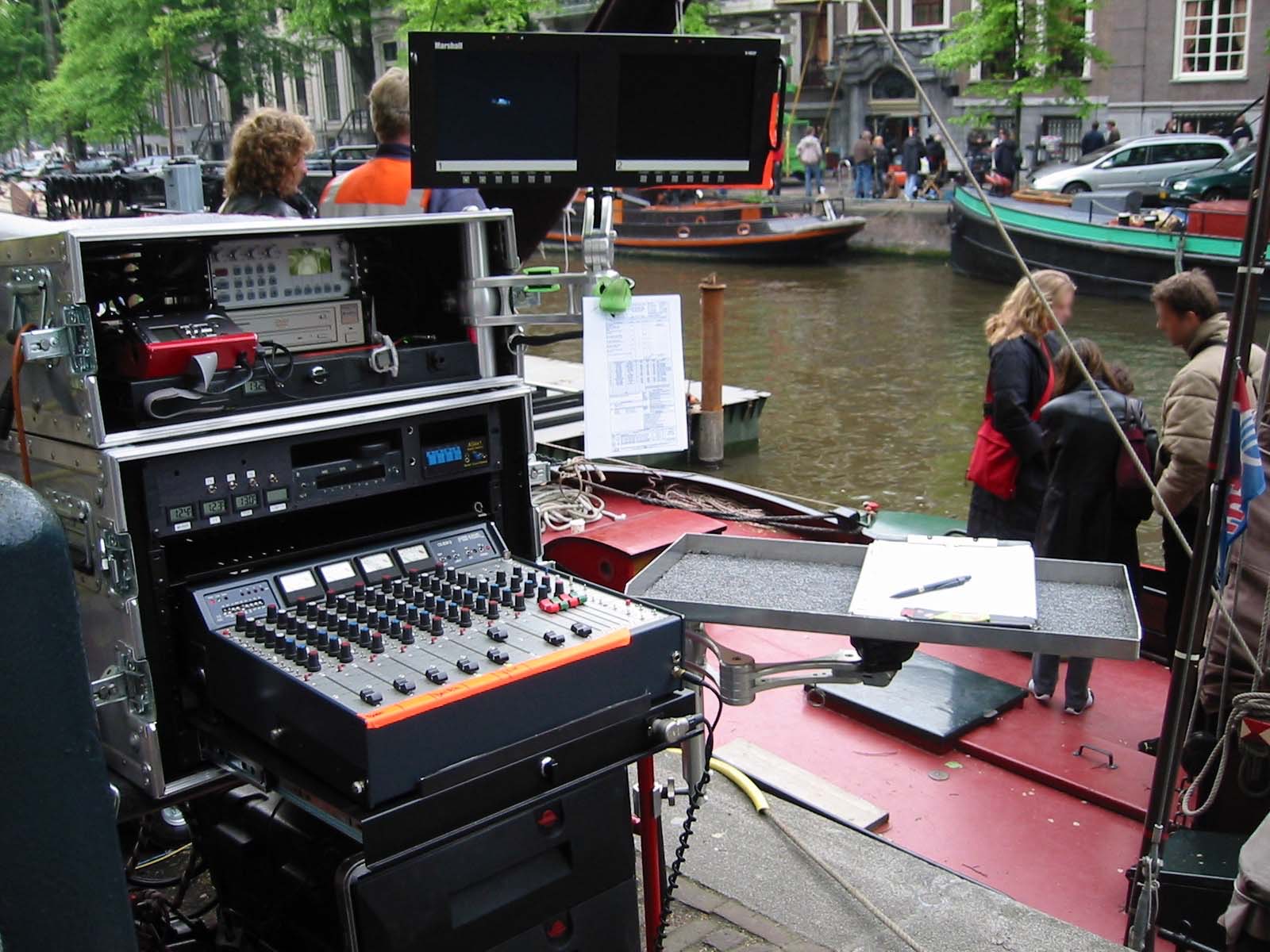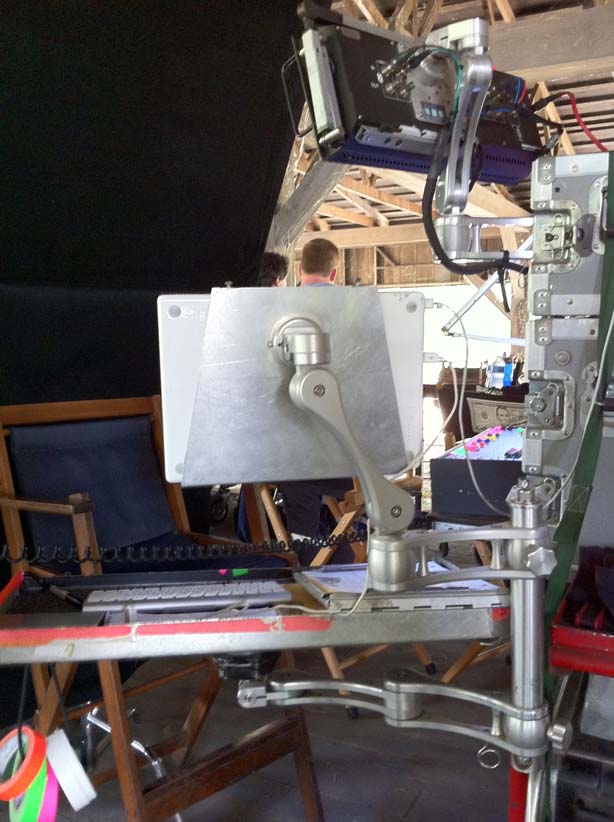 ____________________________________________________________________________________________________________________________________________________
Customer Testimonial
UHN (University Health Network) has deployed hundreds of Monitors in Motion product and found their products are the best among other manufactures for the following reasons:
-Delivers a clean and contemporary look
-durability
-easy to clean and disinfect the product
-functionalities
Overall, we are very pleased with the product offering from Monitor in Motion, and looking forward to their new product and design offering
in the near future.
~ Kevin Tsai
Technical Specialist, Infrastructure Solutions
UHN Digital, Technology & Innovation Portfolio

____________________________________________________________________________________________________________________________________________________
Customer Testimonial Mantis
At Besser Energy we take quality and performance very seriously. We have a philosophy in our company that only the best is acceptable.
When looking for suppliers for monitors stands we saw a lot of options, none of them with the quality Monitors in Motion offers.
Solid, greatly engineered, you can move you monitor with ease and desks look really clean and aesthetic. Mantis line has become our standard for monitor stands.
~ Daniel Torres, Operations Director

________________________________________________________________________________________________________________________________________________
Customer Testimonial Tablet Lift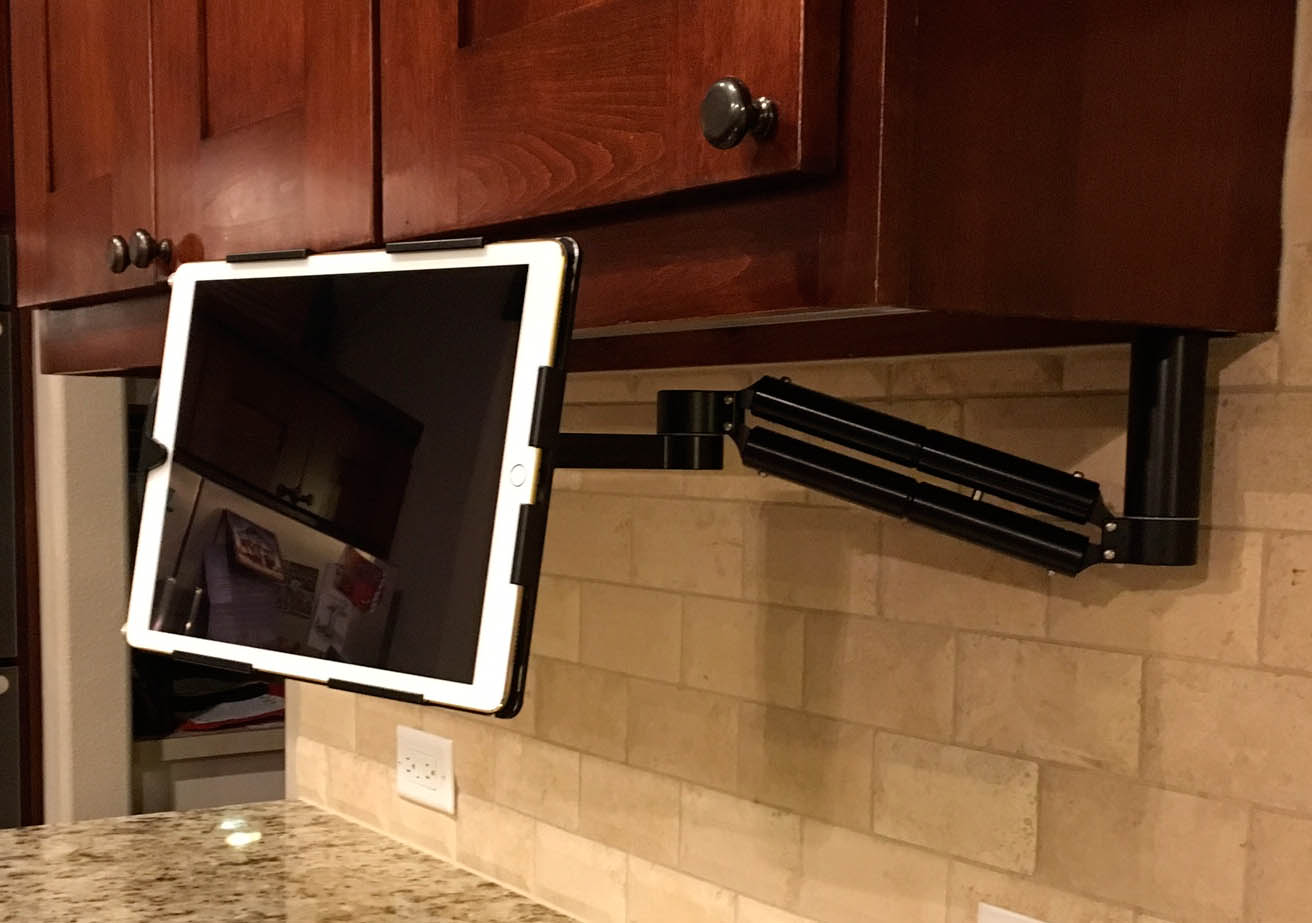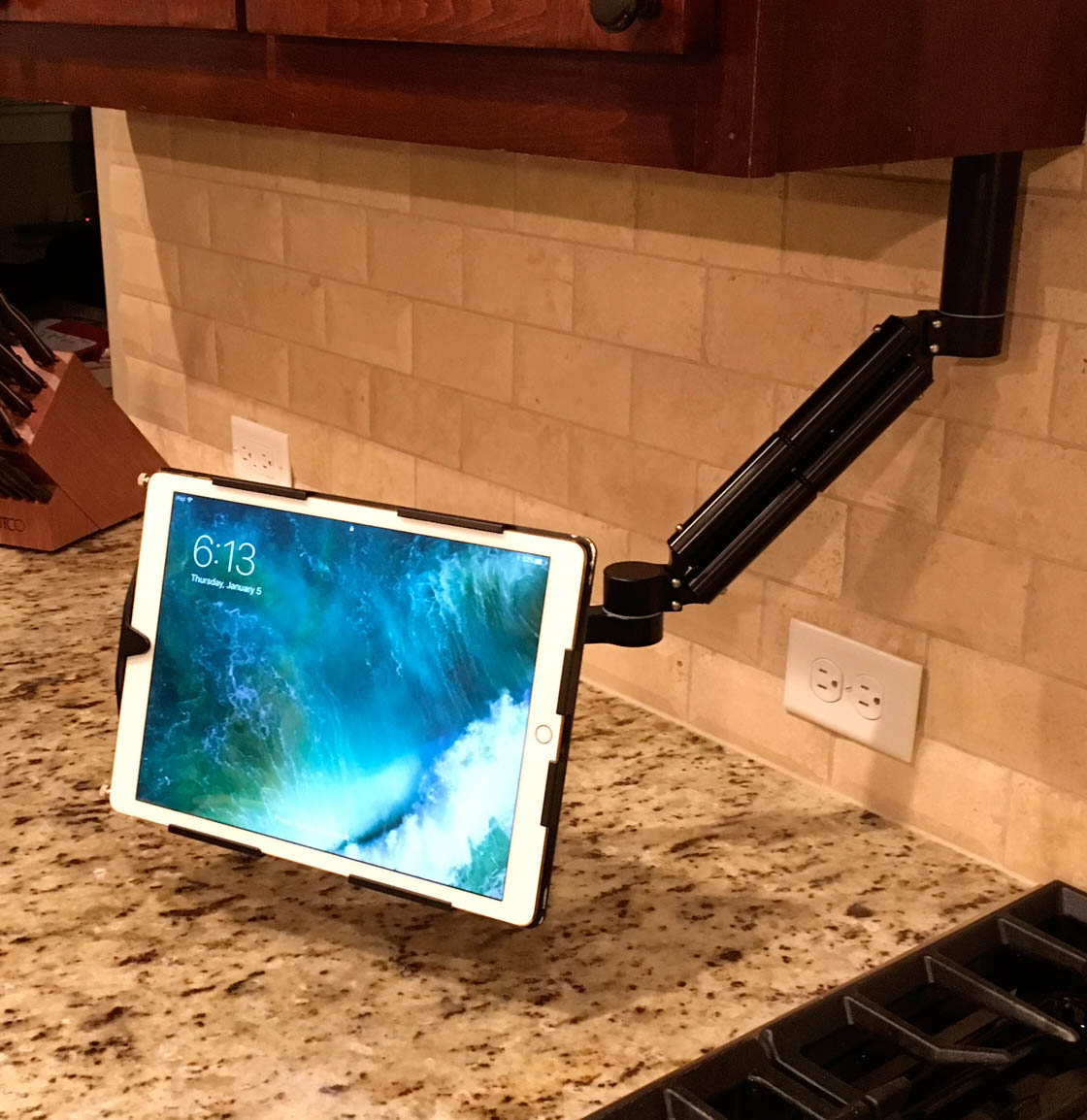 I was looking for a mount for my iPad Pro that was durable, sleek, and very functional. I found exactly what I was looking for at Monitors in Motion; specifically in the Tablet lift. I wanted to customize it to my needs (mounting in under my kitchen cabinets) and Adele was extremely helpful and very prompt to respond with suggestions and options. The tablet lift was customized to my desires and shipped in a very timely manner. Upon receipt, I mounted it and it is now serving as a fantastic addiction to the heart of our home, the kitchen.
~ Kirk
________________________________________________________________________________________________________________________________________________
Customer Testimonial
As a set decorator/buyer for the motion picture industry in Toronto I'm often met with tasks that seem insurmountable, recently such a situation arose. We were building a set which was meant to represent an FBI situation room. The room had 15 workstations and total of 54 computer monitors in various configurations, all of the action and dialogue was centred around information that was to be viewed on the monitors. Monday morning I was handed a list of computer monitors and monitor arms that were to be delivered and had not yet arrived from a supplier. I called Monday to find out the status of the order, Tuesday no response, Tuesday afternoon I was told some monitors had been shipped but unfortunately many of the monitor arms were backordered and would not be delivered in time. We were going to camera that Saturday and dressing the set Thursday morning it was Tuesday afternoon. I cancelled the order with the previous supplier and made the call to Monitors In Motion.From that moment on I breathed easier. Adele listened to my concerns and immediately jumped into action. Armed only with the list of the computers we would be getting and the configurations we needed she worked out all the variables and within two hours I had an invoice in place and Monitors In Motion had begun to assemble the entire order (over 20 singles, stacked doubles, triples and quads) ready for pick up Thursday at noon. I must also mention this was the Thursday before Good Friday there was no room for error, no wiggle room! Adele made sure that the order was picked up in time, included clear instructions so that no problems ensued and followed up making sure that everything was delivered and in place before she set off for her Easter weekend. The whole set up went smoothly the production designer and director were extremely pleased with the look of the SIDEWINDER series and shooting went well. No one ever knew there had been a problem: never again will I go anywhere else for monitor arms than Monitors In Motion. Thank you Adele and your team for keeping me afloat.
~ Danielle Fleury
Set Decorator/Buyer
Toronto, Ontario
________________________________________________________________________________________________________________________________________________
Inovativ Testimonial
"As a company whose customers demand the very best, it was a struggle when looking for the perfect monitor arm solution for our carts. However we came across Monitors in Motion and we were impressed by both their product and their company. They are the best monitor arms we have used and we did a lot of research on our end before deciding to go with them. It's a quality product backed by quality customer support. It is the only reason why it is the only monitor arm solution offered through INOVATIV to our customers."
~ INOVATIV
---
Customer Testimonial BOA
Monitorsinmotion have the inventive, creative
and quality accessories I've been looking for.
They exceeded my expectations!
~ Brandon Dolson
ICG 600 DIT
Vimeo.com/humboldtreels
---
Customer Testimonial Sidewinder
My desk isn't very deep, so things were getting pretty crammed with my monitor stand, keyboard, and audio equipment. The Sidewinder mount allowed me to free up pretty much the entire space that was previously occupied by the monitor stand. I used the grommet mount to take advantage of the hole I had already drilled to pass cables to my cabinets below. My desk surface is really thick and the team at Monitors in Motion helped me figure out how to properly mount the arm, even though I was trying to do something that goes beyond their product spec (the desk is a few inches thicker than what their mount recommends). It worked out really well, and looks much cleaner. Highly recommend their products!
~ Guido Rosso
---
Customer Testimonial on Double Boa
"I just wanted to thank you for all your help in purchasing the Boa II. I love it! I put a little video together to share with friends and colleagues who have neck and back problems from sitting too long."
https://www.youtube.com/watch?v=3d17yuOSepc
~ Linda Steed
---
Customer Testimonial on Mantis 30
I don't see very well because of bad retinas. I like to have my new high resolution 5K iMac close to my eyes where I enlarge what is on the screen. Monitors in Motion's Mantis 30 with a VESA mount fits well onto the back of my iMac so I can bring the screen close to my face, raise or lower it, or push it back for listening to music or watching a movie. I highly recommend this mount to all desktop computer users, but especially to those who have vision issues. The mount is beautiful, easy to install, and the Monitors in Motion staff are happy to help their customers.
~ Donald Whinfrey
---
Touchbistro Canada / Moneris Video
- using Monitors in Motion Tablet Mounts for Point of Sale -
Below is a link ot a video from Touchbistro Canada and their partner Moneris.
fast.wistia.net/embed/iframe/xm28wicvky
---
Customer Testimonial on Sidewinder
" I got my first sidewinder in, as I wanted to ensure it would work well for my setup. I decided to try three separate ones rather than one triple for some additional flexibility (now and perhaps in the future.) My first suggestion is that you need better pictures on your site as it's better than I expected. It's really a beautiful piece, and while I haven't had a chance to break from work long enough to get my monitor on it, if it works half as good as it looks, I'm sure I'll pass on customers to you eventually. Please pass on my thanks for such a great product, as well as my appreciation for your feedback prior to my purchase. I look forward to placing my next order for 2 more in the near future!"
~ Tom

---
Customer Testimonial on Double Boa
"I came across Monitors In Motion when I was ordering my NextDesk and was told that a lot of NextDesk customers order monitor arms from Monitors in Motion. When I looked at their website I immediately thought that they would be perfect. When deciding on the exact configuration and optional components, I exchanged a few emails with Monitors in Motion, all of which were answered promptly and accurately. During installation (which was pretty easy) I did have a few questions and was able to speak to someone from Monitors in Motion who was very helpful. I use two 27-inch high resolution Samsung Monitors, and the addition of monitor arms is pretty amazing in terms of how much clearer everything is. It mostly comes down to being able to have the monitors a lot closer to your eyes than you normally would if they were free standing on a deck. It goes without saying that I suspect strongly I would never be able to go back now that I've experienced the ease of use of these arms. The additional benefits of course include a lot more free desk space and a stunningly nicely designed product. I shall enjoy this for years no doubt."
~ Tony Rose
---
Kingston General Hospital
"Finally a company that stands behind their products.
From the beginning proto-types to the finished product,
Monitors in Motion's team have provided KGH mounting
solutions we are all proud of. Each solution is very functionally,
designed beautifully and it comes with a life time warranty".
~ Jeff MacDonald, Manager, Information Management Support Services, Kingston General Hospital 2011
---
Toronto Rehabilitation Institute
"With our new leading edge research facilities we were
looking for a company that could provide mounting
solutions to match our image. Monitors in Motion have
succeeded in doing just this. Their monitor arms are
not only functional, they are a work of art".
~ Geoff Fernie, VP Research Toronto Rehabilitation Institute, University of Toronto 2011
---
Centre Chat! Child Development Centre Newsletter
"Collaboration: The joining of two companies results in a
top quality product to meet the needs of many CDC clients "
~ Hotel Dieu Hspital, Kingston Newsletter March 2010
---
Outspoken Magazine
"...there is an extremely high demand for this type of product!
Not only can it be used for laptops, but also for various pieces of technology,
including but not limited to digital cameras, camcorders, cell phones, iPads, etc.
It can also be used for reading, writing, eating, absolutely anything really!"
Read full Outspoken Magazine arcticle
~ Katie Charboneau, Outspoken Magazine Fall 2010
---
Video Wall Mount Solutions - VIZIO
Monitors in Motion's video wall is one of the first things my customers comment on as they enter our new lounge.
The look, quality and functionality of their mounts are second to none!
We had a great experience working with Monitors in Motion from start to finish and we are proud of our new product
demo lounge and we won't hesitate to use MIM again in our future demo expansions".
~ Nathan Haley, Category Manager, VIZIO